Our Curriculum
Our curriculum is delivered through an integrated approach where topics are taught across all domains. The students are engaged in a unit of work sharing their knowledge, before they explore new information which they will be able to explain through various applications allowing them to develop their ideas and understandings. Self evaluation of progress is an important aspect of their learning.
Our School Strategic Plan places great emphasis on ICT, Literacy and Numeracy Programs.
Our eLearning vision at CEPS embeds ICT in all facets of the curriculum providing a stimulating, purposeful, inclusive and challenging environment for all children to meet the demands of their ever changing technological world. Using ICT is an engaging and exciting learning experience for students.
Our Arts Curriculum at CEPS is an exceptional and enticing program that allows students to participate in fun and exciting activities in our Art and Music rooms. The programs are facilitated by experienced, creative teachers.
Literacy
Our Literacy Program develops skills in reading, writing, speaking and listening in a supportive and stimulating environment.
Our Early Years Program promotes the development of literacy skills through the provision of a daily "Literacy Block." This learning time allows all children in Prep to Year 4 to practise and consolidate their learning. Our Middle Years Literacy Program in Year 5 and Year 6 develops and extends children's literacy skills using more complex texts.
Planning for the Literacy Program is based on the Victorian Curriculum.
Reading Recovery and Literacy support programs are a component of the Year 1 program. A knowledgeable and enthusiastic teaching staff have strategically developed an extensive resource centre which supports the literacy program implemented in the classrooms.
All students are encouraged to participate in the Victorian Premier's Reading Challenge and their success is rewarded with a certificate.
Parent involvement, an integral component of life at CEPS is supported and encouraged through CHATS, our Classroom Helpers and Teacher Support Program.
Throughout the year, visits by theatre companies, guest speakers, story tellers and authors enhance our literacy experiences.
Numeracy
Our Mathematics curriculum is taught in accordance with the Victorian Curriculum as outlined by the Victorian Government. Maths is separated into different areas (dimensions): Number, Space, Chance & Data, Measurement, Structure and Working Mathematically. Students engage in five hours of maths each week. Our classroom maths programs are supported by a variety of resources including concrete materials, maths games, modelling tools and time telling apparatus.
ICT programs are utilised to consolidate and enhance children's understanding, providing practice for their number facts and deductive thinking. Our school intranet also provides interactive resources such as 'Maths 300', 'Maths Circus', 'Targeting Maths Labs' and of course through 'Mathletics' and 'Smartkiddies', internet applications, which provide much pleasure whilst learning for our students. Children are also able to access these programs from home.
The 'Information and Communication' highway is always flowing at Cheltenham East as we research and apply our findings. Our infrastructure allows students and staff access to a variety of hardware which is used to broaden creativity and critical thinking skills in a range of applications. Opportunities to develop skills arise across the curriculum in a safe and supported environment.
Cheltenham East Primary School has recently become an eSmart school. eSmart is an initiative of the Alannah & Madeline Foundation which uses a cultural change approach to improve cyber safety and reduce cyber bullying.
We have used the eSmart framework to help guide our policies, practices and whole-school processes to create a cyber safe environment and to help support the smart, safe and responsible use of technology.
With our lives being immersed by technology it is important that now more than ever we as a school community continue to uphold and promote cyber safe behaviours at school and at home.
For more information about eSmart or sites you can visit for support with being cyber safe at home please take the time to explore the links.
Visual Art
Our Visual Arts program enables children to be involved in numerous activities that aim to develop and extend individual artistic skills and creativity. All children work on a broad range of activities such as drawing, painting, printing, collage, construction, modelling and textiles as outlined in the Victorian Curriculum.
Children attend one session per week in our new purpose built well resourced Art room. Each lesson aims to cover skill application and art appreciation. Children have the opportunity to socialise with their peers and share their ideas in a positive and encouraging learning environment. Producing work for presentation is most important. Displays of children's art works can always be viewed along the corridor of the main building, showcasing the outstanding artistic abilities of our students.
Music
Our Music program consists of one class session per week in the Music room which is equipped with a variety of musical instruments including a piano, several keyboards and tuned instruments. Children sing, listen to music and play a range of instruments. Classes participate in assembly items, presented on a rotational basis at Monday morning assemblies throughout the year.
Physical Education
Our extensive grounds and facilities allow our Physical Education program to continue regardless of the weather. Our enthusiastic and encouraging program facillitator caters for all students to have fun whilst developing fundamental skills and awareness of body and space. Our program is developed from the Victorian Curriculum.
Students in Years 3-6 participate in Minor games including Bat Tennis, Kanga Cricket, Football, Netball, Soccer, Tee Ball, and Volleyball throughout the year. Years 5 and 6 students participate in Inter-School Lightning Premierships. Other events such as Hooptime Basketball and Five-a-Side Soccer are also arranged for students. Our students participate in House Athletics, Cross-Country and Swimming events with several children qualifying to attend Zone and District Carnivals. We are always very proud of our children and the way they participate.
Our Prep and Year 1 students participate in PMP, a Perceptual Motor Program which occurs in Term 2.
Our program is complemented with the attendance of all classes at several specialist swimming lessons at the Bayside Aquatic Centre in Mentone.
LOTE – Italian
Our LOTE (Languages Other Than English) program is based on the Victorian Curriculum.
Our Italian LOTE program encourages children to not only be exposed to the Italian language, but also learn about Italian society. Children are able to develop a better understanding and appreciation of other cultures. The study of Italian also aids as a foundation for learning other languages. Children and staff participate in Special Days to promote cultural activities. Italian lessons are attended by Foundation to Year 6 students each week.
Science
Stay tuned as this area is updated.
CEPS Kids are Friendly Kids
The National Framework for Values Education recognises the values, education policies and programs already in place in Victorian education authorities and schools. Click here for further information.
Our social skills program "CEPS Kids are Friendly Kids" teaches and instills values through role play, discussion and everyday events. Children are encouraged to live our school motto 'Aim High' and to always give their best effort.
The four values which permeate our program are Courtesy, Respect, Co-operation and Responsibility. Student awards are given each week at assemblies according to these overriding values.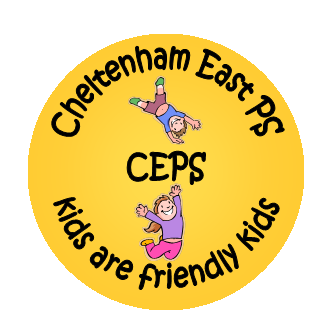 SWPBS – School Wide Positive Behaviour Support
The SWPBS approach at Cheltenham East Primary School was introduced in 2014. It is a whole school approach designed to promote and maintain a safe and orderly learning environment for all students and staff.
It focuses on everyone and all settings within the school and promotes a positive focus on academic and behavioural outcomes across the school. It clearly defines our core expected behaviours, which are:
I am Courteous
I am Respectful
I am Co-operative
I am Responsible
Behaviour expectations will be taught and practised throughout the school to reinforce our core values.